Home

>
Pueblo Deco Hand Carved Log Table
i
Pueblo Deco Hand Carved Log Table 12 - 16 dia x 18 H inches Cocoa Brown
As Shown
Pueblo Deco Hand Carved Log Table 12 - 16 dia x 18 H inches Cocoa Brown
Pueblo Deco Hand Carved Log Table
Order by Phone: 866-804-1909
Product Description
Tonal plateaus rise above a meticulously textured ground creating a geometric landscape that shifts depending on the angle. A reveal along the top surface becomes another point of interest, adding contrasting depth. To create this bold design, our artisans carefully chip away at the wood to reveal and sharpen the contours. Using a wire brush, the ground texture between is created, leaving a gleaming ripple effect that juxtaposes with the geometry of the raised forms. Natural cracks and colorations emerge, emphasizing the origins of the material and its inherent interest - making each piece entirely unique and one-of-a kind.

Crafted to perfection, this table is not just a beautiful addition to your decor but also a functional work of art that references the Pueblo Deco architectural style that was popular in the in the Southwest in the early 20th century. Pueblo Deco fused elements of Art Deco with the region's Pueblo and Territorial architectures. A Pfeifer Studio exclusive, each is seasoned in a solar kiln for months to enhance the natural cracks and separations found in sun-dried wood. By hand artisans carve the markings; your piece will be finished per your specifications.
Naturally Unique | This style is built from a solid log of Margosa wood. Knots, cracks, coloration and grain pattern will vary by piece. Bowties may be present. These attributes amplify the organic origins - enhancing the proportions, emphasizing the lines, and imparting character. Each piece is one-of-a-kind and may vary from the images as shown. This is the pedigree of our solid wood furniture.
How we would use it | A few in front of a low-line modern sofa; for a book and a drink next to a lounger

SPECIFICATIONS
Margosa Wood - a dense tropical hard wood from India. Our Margosa wooden designs are seasoned in a solar kiln, developing organic cracks and separations as the wood dries and shrinks. Time may accentuate these separations, or generate new ones. This movement is considered inherent to the natural beauty of the design.

12- 15 diameter x 18 H inches

70+ lbs

Exterior, water-resistant wood finish

Leveling nylon glides
DETAILS
Exclusive

Made in the USA

Solar kiln-dried

Available in custom sizes and materials. Call 866-804-1909 for details.

Interior / Exterior Use

Contract Grade
CARE
Exterior Finish - Sealed with an exterior-grade penetrating oiled stain, specially formulated for exposure to sunlight, water and temperature changes, our designs can be placed outdoors, as well as in interior residential or commercial spaces. Wood that is exposed to elements will weather, turning to a silver-gray patina. Extreme temperatures, intense sunlight and moisture will hasten the aging process, while overhead coverage from the elements will slow the process. Wood, as with anything left outdoors, will be subject to airborne impurities such as pollen and dirt. Frequent hosing off of your furniture will help it stay clean and weather evenly. Inspect your piece several times a year for wear to the finish. Reapplication of finish is recommended every 6-24 months, or as wear is apparent.

Reapply exterior oil to the wood every 6-24 months

An outdoor furniture cover is recommended

Store indoors during cold or inclement weather

Remove from standing water

New cracking may appear throughout the seasons

Not recommended in extreme temperatures
---
ABOUT THIS COLLECTION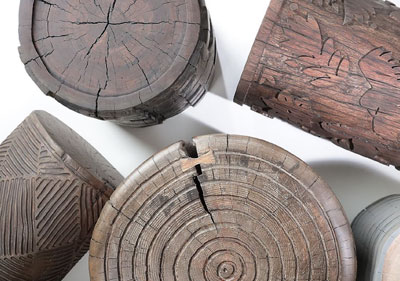 Our Hand Carved Wood Collection combines the maker's hand with a modern aesthetic. Old world motifs and contemporary proportions and shapes play their part, creating distinctive designs that stand out in a space. Our tools of the trade are held by hand; the wood varieties are selectively harvested, then worked and formed by our craftspeople.
Shop The Collection
NATURALLY UNIQUE
Connoisseurs of quality products value the depth and sophistication that comes from the naturally unique. Such pieces feel alive, bearing the deep longstanding beauty of living things. Organic materials that have breathed and thrived, soaking up their environment, possess the marks of their growth and the life that came before.
Learn more
---
SHIPPING & DELIVERY
USA (contiguous): • $100 Delivery • 2-5 days in transit • Ships with FedEx Ground


International: • You will be contacted with a delivery price before shipment. • Sent tax and duty collect
RETURNS
We take great pride in the quality of our merchandise. If for any reason you are not happy with your purchase, you may return the item(s) within 30 days of receiving the order for a full refund of the merchandise cost. After 30 days, we will replace or refund your purchase against manufacturer's defects ONLY. Please note that we cannot accept returns on custom orders or on items damaged through normal wear and tear. Delivery fees are non-refundable.
Other Details
https://cdn6.bigcommerce.com/s-vqetyz9/product_images/uploaded_images/swatches-margo.jpg?t=1527713937&_ga=2.219484505.1954501399.1527455089-1684599837.1515172747
true
true
https://pfeiferstudio.com/hand-carved-wood/
Pfeifer Studio | Hand Carved Wood Collection
beautiful products
How many ways are there to say, "I love it?" You can count them. From lighting that delights you, to chairs that cheer you and tables that turn heads, we unite beautiful design with quality materials and craftsmanship down to the smallest detail.
custom design
We speak bespoke. Our custom design team will collaborate with you to make your design dreams come true. Our artisan workshops pride themselves on the ability to translate your vision into beautiful objects made with exceptional materials and craftsmanship.
Pfeifer Studio creates with a mission, to unite great design, exceptional materials and superior craftsmanship under our discriminating eye, creating inspired furnishings for people who are passionate about design.

The best artisan workshops in the US and abroad create our products, each staffed with dedicated craftspeople, who care for the quality of the design as much as you. We visit our workshops often, and build strong personal relationships with the owners. This support of the art of one-at-a-time allows us to create handmade, finely crafted furniture and accessories. When your order arrives, you'll see why.

We speak bespoke. You can customize our line or have us create your own exclusive designs. Regardless of your needs, from an interior that makes you swoon to a standout hotel lobby, we can bring your vision to reality, on schedule, on budget and beyond your expectations.

You will not find our collection in an Interior Design Showroom or at your favorite boutique. Our designs are exclusive to us. We've kept the best for ourselves, and for you.

All great design needs worthy companions. In our travels we've discovered other remarkable lines from designers and artisans that we love and think you'll love too. They are exclusively available right here to mix and match with our own collection.

In the end our vision is simple.

You love great design and we strive to create beautiful products to inspire your vision.

We want you to say P. S. I love it! every time you work with us. #psiloveit
Other Details
https://cdn6.bigcommerce.com/s-vqetyz9/product_images/uploaded_images/swatches-margo.jpg?t=1527713937&_ga=2.219484505.1954501399.1527455089-1684599837.1515172747
true
true
https://pfeiferstudio.com/hand-carved-wood/
Pfeifer Studio | Hand Carved Wood Collection
10% OFF