A Personal Design Studio at Your Fingertips
A Personal Design Studio at Your Fingertips
| By Michele Cernosia
---
We've spent years perfecting our techniques, with methods that are tried and
true and scalable to any project size, so you can sit back and relax
while your ideas come to life.
Handmade is our design philosophy and customization fits naturally into the mix. Realizing our clients' unique ideas takes passion. Creating custom designs that are made
for you, and perfectly align with your vision, environment, and specific project needs is what drives us - allowing you to follow your imagination and create signature
investment pieces of quality and longevity that will last a lifetime. Having access to the full range of our capabilities makes your job easier. We've spent years perfecting
our techniques, with methods that are tried and true and scalable to any project size, so you can sit back and relax while your ideas come to life. Collaborating with
you to create beautiful, functional works of art with personalized precision down to the smallest detail is our mission.
Expert artisans in our workshops in New Mexico and India are well versed in contemporary and traditional crafts, handmaking each piece per your exacting specifications.
We work with our clients to determine the best way to achieve their desired designs, ensuring the optimal marriage of material and method. A custom project with us can
range from the basic to the sublime, in quantities large and small. Whether we're providing personal customization of a classic piece from our own line, or
creating something entirely new from your sketch or photo, the sky is truly the limit. Utilizing our extensive technical know-how, if you can dream it, we can create it.
A great place to start is on our custom design page, gleaning ideas from past projects. Because our products are created one at a time, we have the ability to tweak
individual elements to match any specification, making a style truly your own. Using our exclusive designs as inspiration, you can customize many of our gorgeous
pieces to reflect your unique style and aesthetic. If you have your own ideas, we are up to the challenge. With extensive access to a wide variety of materials, textures,
and techniques, we've got it covered. You can send us a swatch or a photo, sketch out an idea, dream up a concept - our clients are creative masters and our artisans
are equal to the task. Each project represents an opportunity to expand our skills and create something new and amazing. We relish the collaboration,
so let your imagination run.
A custom project with us can range from the basic to the sublime, in quantities
large and small...the sky is truly the limit.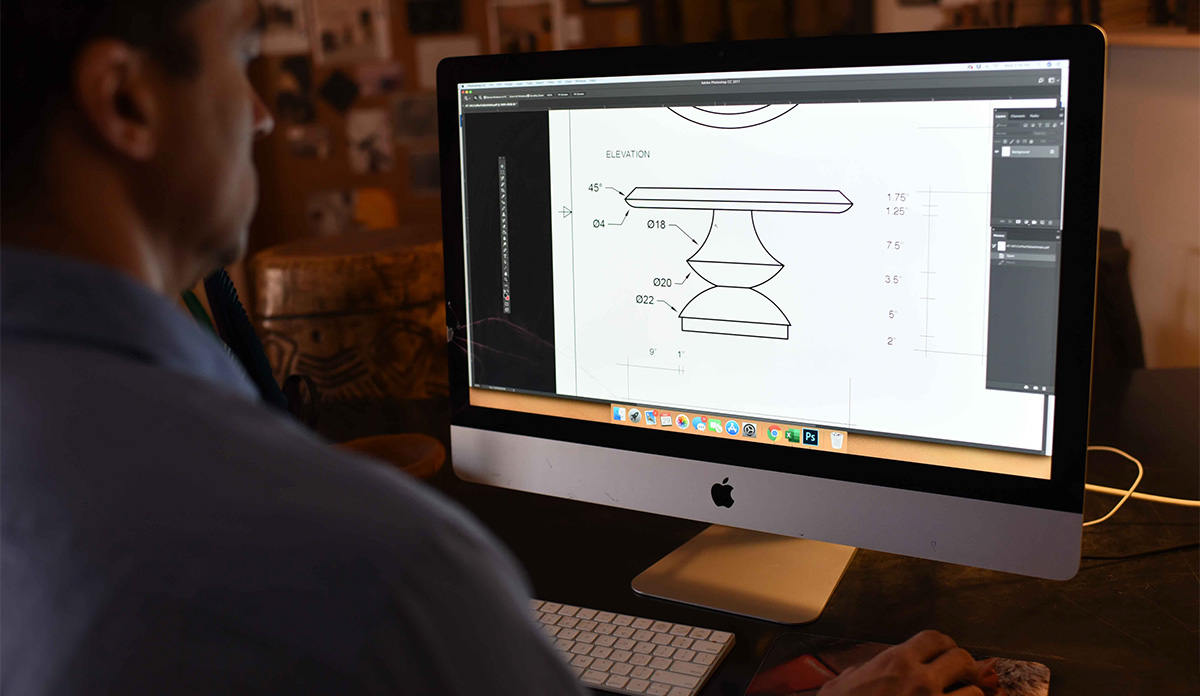 Whether your project is a corporate office space, hotel, or studio apartment, we can supply all your design and fabrication needs. From a single piece to a full
collection, for projects worldwide, production in our workshops is efficiently and expertly executed. We're available to help coordinate the logistics to ensure a
smooth delivery to your installation for any size order and any size project. For quantities large and small, our quality and service are always the
highest - to match your high standards.
CLICK HERE TO LEARN MORE ABOUT CUSTOM DESIGN