Home

>
Balinea Dining Table
i
Balinea Dining Table 14 x 96 x 18 H inches Espresso Finish
As Shown
Balinea Dining Table 14 x 96 x 18 H inches Espresso Finish
Balinea Dining Table
Order by Phone: 866-804-1909
Product Description
Skillful craftsmanship and intricate carving create a sumptuous solid wood table with magnificent sweeping lines. Graceful curves and hand sculpted lines unite with detailed intricacy and dynamism. The color and grain variations of solid Cherry wood lend themselves to the landscape of each rippled and undulated hand-carved contour to create an intriguing silhouette. An optional 24" leaf can be dropped into place for expansion.
Our artisans precisely cut and work each element, creating vertical notches that navigate the delicate curving of the top side edge, juxtaposing with the carefully balanced, tapering band-wrapped legs. Stunning and impactful, this boldly elegant piece will transform interiors and be treasured for generations.
SPECIFICATIONS
Cherry wood

Hand carved surface texture

42 x 96 x 30 H inches - 120" long with optional leaf extension

200 lbs

Leveling nylon glides
DETAILS
Exclusive

Made in New Mexico, USA

Available in custom sizes and materials. Call 866-804-1909 for details.

Interior use only

Contract Grade
CARE
Interior Finish - Sealed with a cataylzed lacquer, our designs can be placed in interior residential or commercial spaces. This matte-sheen finish is long-lasting and meets KCMA durability requirements for commercial finishes. To best care for your new piece simply dust with a dry, soft cloth. Spot cleaning may be done with a damp soft cloth. A mild soap solution may be used. Avoid care products with ammonia, silicone or other chemicals which may harm the finish. BioShield® Hard Wax #32 has been applied for added protection. Periodic waxing will extend the life of the finish.
---
ABOUT THIS COLLECTION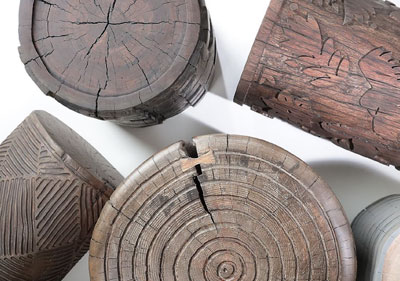 Our Hand Carved Wood Collection combines the maker's hand with a modern aesthetic. Old world motifs and contemporary proportions and shapes play their part, creating distinctive designs that stand out in a space. Our tools of the trade are held by hand; the wood varieties are selectively harvested, then worked and formed by our craftspeople.
Shop The Collection
---
SHIPPING & DELIVERY
USA (contiguous): • Curbside Delivery • 2-5 days in transit • Ships with a Freight Carrier

International: • You will be contacted with a delivery price before shipment. • Sent tax and duty collect
RETURNS
We take great pride in the quality of our merchandise. If for any reason you are not happy with your purchase, you may return the item(s) within 30 days of receiving the order for a full refund of the merchandise cost. After 30 days, we will replace or refund your purchase against manufacturer's defects ONLY. Please note that we cannot accept returns on custom orders or on items damaged through normal wear and tear. Delivery fees are non-refundable.
Other Details
https://cdn6.bigcommerce.com/s-vqetyz9/product_images/uploaded_images/swatches-pine.jpg?t=1527634514&_ga=2.153401720.1954501399.1527455089-1684599837.1515172747
true
https://pfeiferstudio.com/hand-carved-wood/
Pfeifer Studio | Hand Carved Wood Collection
10
beautiful products
How many ways are there to say, "I love it?" You can count them. From lighting that delights you, to chairs that cheer you and tables that turn heads, we unite beautiful design with quality materials and craftsmanship down to the smallest detail.
custom design
We speak bespoke. Our custom design team will collaborate with you to make your design dreams come true. Our artisan workshops pride themselves on the ability to translate your vision into beautiful objects made with exceptional materials and craftsmanship.
Pfeifer Studio creates with a mission, to unite great design, exceptional materials and superior craftsmanship under our discriminating eye, creating inspired furnishings for people who are passionate about design.

The best artisan workshops in the US and abroad create our products, each staffed with dedicated craftspeople, who care for the quality of the design as much as you. We visit our workshops often, and build strong personal relationships with the owners. This support of the art of one-at-a-time allows us to create handmade, finely crafted furniture and accessories. When your order arrives, you'll see why.

We speak bespoke. You can customize our line or have us create your own exclusive designs. Regardless of your needs, from an interior that makes you swoon to a standout hotel lobby, we can bring your vision to reality, on schedule, on budget and beyond your expectations.

You will not find our collection in an Interior Design Showroom or at your favorite boutique. Our designs are exclusive to us. We've kept the best for ourselves, and for you.

All great design needs worthy companions. In our travels we've discovered other remarkable lines from designers and artisans that we love and think you'll love too. They are exclusively available right here to mix and match with our own collection.

In the end our vision is simple.

You love great design and we strive to create beautiful products to inspire your vision.

We want you to say P. S. I love it! every time you work with us. #psiloveit
Other Details
https://cdn6.bigcommerce.com/s-vqetyz9/product_images/uploaded_images/swatches-pine.jpg?t=1527634514&_ga=2.153401720.1954501399.1527455089-1684599837.1515172747
true
https://pfeiferstudio.com/hand-carved-wood/
Pfeifer Studio | Hand Carved Wood Collection
10
10% OFF