i
Rhythmic Kudu Core Table Lamp - TL4 - Ac 16.5 diameter x 37 H inches Kudu Horn, Acrylic, Linen
As Shown
Rhythmic Kudu Core Table Lamp - TL4 - Ac 16.5 diameter x 37 H inches Kudu Horn, Acrylic, Linen
Rhythmic Kudu Core Table Lamp
Order by Phone: 866-804-1909
Product Description
Sleek ivory coloured Kudo horn core entwines gracefully to form a stunning and neutral sculptural piece. African artisans individually select the bone core of a Kudu horn and attach to a thick acrylic base. Topped with a linen shade, it takes up to 75 watts. Each is unique to you - please allow for variation.
Where we would use it | Against a dark foyer wall; flanking a leather settee.
SPECIFICATIONS
Genuine kudu ram horn core

1.5" acrylic base

Linen shade

16.5 diameter x 37 H inches (varies based on actual horn core length)
DETAILS
Handmade in the USA

Horn core imported from South Africa

Antiqued bronze socket, harp & finial

75 watt maximum

Wipe with a soft, dry cloth to clean. To protect finish, avoid the use of chemicals and household cleaners.
---
ABOUT THIS COLLECTION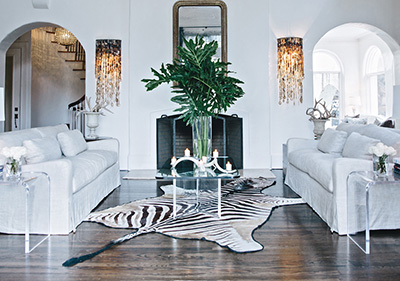 Surely there is magic in the Dira collection. The unexpected, one-of-a-kind Africa meets the West designs juxtapose exotic natural hides, horns and textiles with thoroughly modern acrylics. The result is a spellbinding, show-stopping collection of genuine, statement-making pieces.
Shop All
---
NATURE CONSERVATION OF SOUTH AFRICA CERTIFIED
With every purchase of a DIRA genuine skin or horn product you not only have the benefit of enjoying a unique and individually crafted work of art, but you are also helping to contribute needed resources to the game farms that oversee the protection and well-being of South Africa's wildlife and their habitats. Private game reserves use the funds from the sale of these products to help finance wildlife habitat and anti-poaching militias. All of our products are acquired lawfully according to the highest standards established by Nature Conservation of South Africa ensuring that each product was not obtained through poaching. Additionally, all of our products carry veterinary certification indicating that each item was processed according to international veterinary standards.
SHIPPING & DELIVERY
USA (contiguous): • Free Delivery • 2-5 days in transit • Ships with FedEx Ground


International: • You will be contacted with a delivery price before shipment. • Sent tax and duty collect
RETURNS
This item is final sale and not available for return.
beautiful products
How many ways are there to say, "I love it?" You can count them. From lighting that delights you, to chairs that cheer you and tables that turn heads, we unite beautiful design with quality materials and craftsmanship down to the smallest detail.
custom design
We speak bespoke. Our custom design team will collaborate with you to make your design dreams come true. Our artisan workshops pride themselves on the ability to translate your vision into beautiful objects made with exceptional materials and craftsmanship.
Pfeifer Studio creates with a mission, to unite great design, exceptional materials and superior craftsmanship under our discriminating eye, creating inspired furnishings for people who are passionate about design.

The best artisan workshops in the US and abroad create our products, each staffed with dedicated craftspeople, who care for the quality of the design as much as you. We visit our workshops often, and build strong personal relationships with the owners. This support of the art of one-at-a-time allows us to create handmade, finely crafted furniture and accessories. When your order arrives, you'll see why.

We speak bespoke. You can customize our line or have us create your own exclusive designs. Regardless of your needs, from an interior that makes you swoon to a standout hotel lobby, we can bring your vision to reality, on schedule, on budget and beyond your expectations.

You will not find our collection in an Interior Design Showroom or at your favorite boutique. Our designs are exclusive to us. We've kept the best for ourselves, and for you.

All great design needs worthy companions. In our travels we've discovered other remarkable lines from designers and artisans that we love and think you'll love too. They are exclusively available right here to mix and match with our own collection.

In the end our vision is simple.

You love great design and we strive to create beautiful products to inspire your vision.

We want you to say P. S. I love it! every time you work with us. #psiloveit
10% OFF