Home

>
Genuine Petrified Wood Cube Table
i
As Shown: Petrified Wood Cube Table Dimensions: 13.5 x 13.5 x 17.5 H inches, each is unique expect variation Color: Black & Neutral Mix
As Shown: Petrified Wood Cube Table Dimensions: 13.5 x 13.5 x 17.5 H inches, each is unique expect variation Color: Black & Neutral Mix
Genuine Petrified Wood Cube Table
Order by Phone: 866-804-1909
Product Description
A design millions of years in the making, our petrified wood cube tables were created underground, when a tree was buried by organic matter, such as volcanic ash, and then preserved due to a lack of oxygen. Over many millennia, elements such as carbon were absorbed by the wood transforming it into stone. Each of these natural beauties are unique and display the organic markings of time, please expect variation in color and patterns. Please contact us at 866-804-1909 to request an image of the actual cube that you will be sent.

How we would use it | Beside a natural linen armchair; as a statement-making element in a living room.
Petrified wood - A fossil that forms when a tree is buried by sediment and protected from decay by oxygen and organisms. Then, groundwater rich in dissolved solids flows through the sediment replacing the original plant material with carbon, silica, calcite, pyrite or another inorganic material.

13.5 x 13.5 x 17.5 H inches, each is unique expect variation

150+ lbs
DETAILS
Exclusive to Pfeifer Studio

Wipe with a soft, dry cloth to clean. To protect finish, avoid the use of chemicals and household cleaners.
---
ABOUT THIS COLLECTION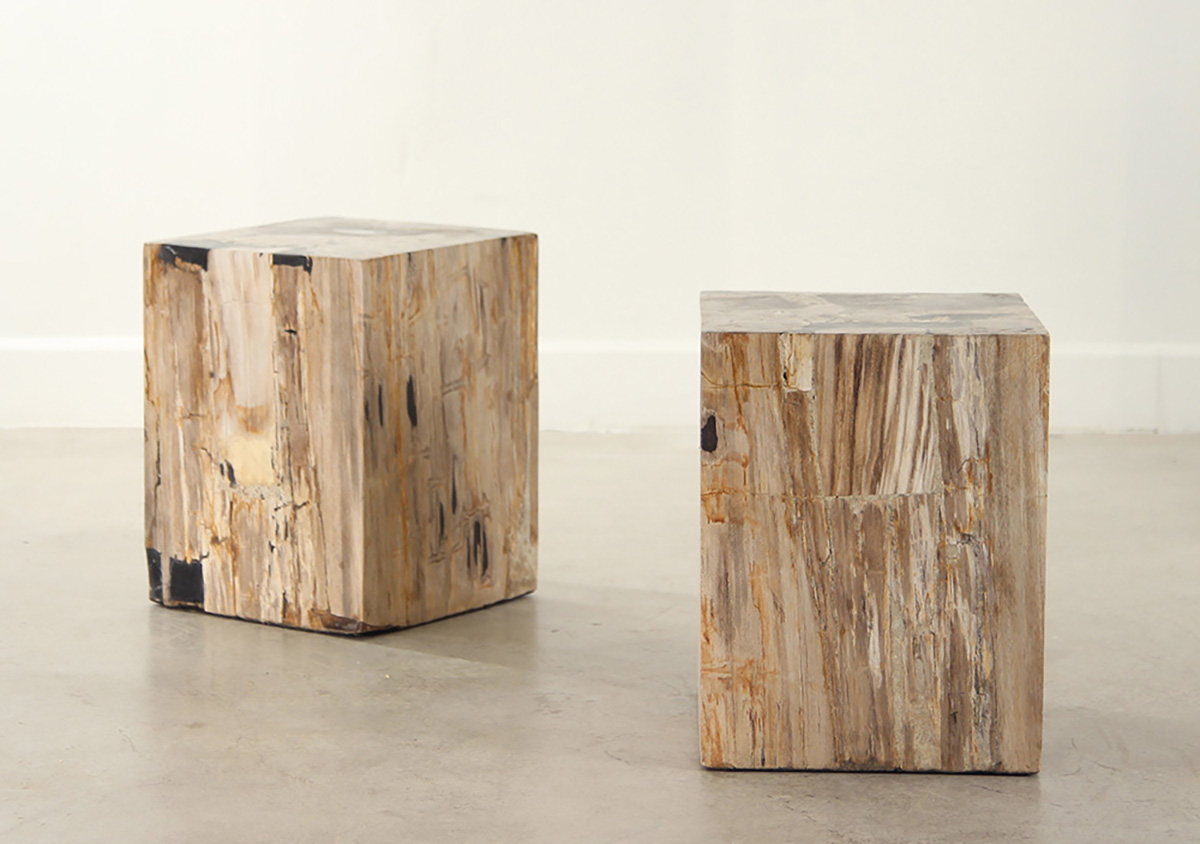 Petrified wood gives an interior such a rich and organic look combined with the glamorous touch of polished stone. Our Petrified Wood Log Tables have been such a big hit and it is not hard to see why. So it was an obvious extension of the collection to create a cube, bringing together a popular material with a classic shape.
Read more
---
SHIPPING & DELIVERY
USA (contiguous): • $200 Curbside Delivery • 2-5 days in transit • Ships with a Freight Carrier


International: • You will be contacted with a delivery price before shipment. • 7-14 day transit time (average) • Ships with FedEx Express or US Priority Mail International • Sent tax and duty collect
RETURNS
This item is final sale and not available for return.
beautiful products
How many ways are there to say, "I love it?" You can count them. From lighting that delights you, to chairs that cheer you and tables that turn heads, we unite beautiful design with quality materials and craftsmanship down to the smallest detail.
custom design
We speak bespoke. Our custom design team will collaborate with you to make your design dreams come true. Our artisan workshops pride themselves on the ability to translate your vision into beautiful objects made with exceptional materials and craftsmanship.
Pfeifer Studio creates with a mission, to unite great design, exceptional materials and superior craftsmanship under our discriminating eye, creating inspired furnishings for people who are passionate about design.

The best artisan workshops in the US and abroad create our products, each staffed with dedicated craftspeople, who care for the quality of the design as much as you. We visit our workshops often, and build strong personal relationships with the owners. This support of the art of one-at-a-time allows us to create handmade, finely crafted furniture and accessories. When your order arrives, you'll see why.

We speak bespoke. You can customize our line or have us create your own exclusive designs. Regardless of your needs, from an interior that makes you swoon to a standout hotel lobby, we can bring your vision to reality, on schedule, on budget and beyond your expectations.

You will not find our collection in an Interior Design Showroom or at your favorite boutique. Our designs are exclusive to us. We've kept the best for ourselves, and for you.

All great design needs worthy companions. In our travels we've discovered other remarkable lines from designers and artisans that we love and think you'll love too. They are exclusively available right here to mix and match with our own collection.

In the end our vision is simple.

You love great design and we strive to create beautiful products to inspire your vision.

We want you to say P. S. I love it! every time you work with us. #psiloveit
10% OFF